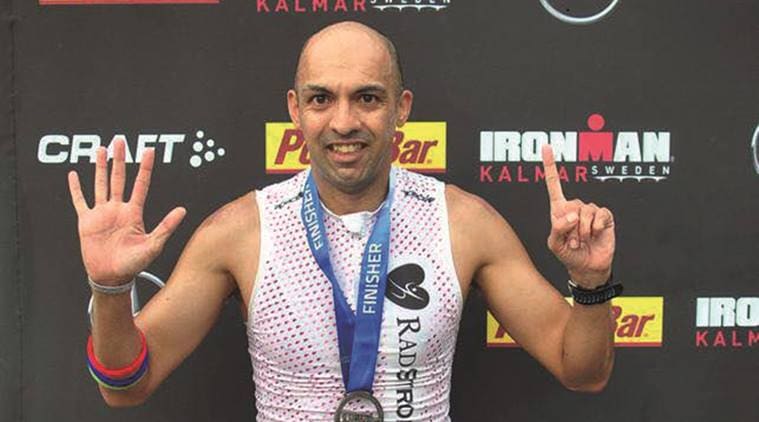 Kaustubh RadkarCity-based Kaustubh Radkar has done it for the 15th time! He has bagged the Iron-man title at Sweden on August 20 and even led a team of 10 Indians, including specially-trained Puneites, for the event.
An Ironman triathlon is one of a series of long distance triathlon races organised by the World Triathlon Corporation. The event consists of a 3.86-km swim, 180.25-km bicycle ride and a 42.2-km marathon in that order without a break. It is widely considered to be one of the most difficult one-day sporting events in the world and most events have a strict time limit of 17 hours.
A doctor of health administration and rehabilitation sciences, 32-year-old Radkar said that he had just completed the Ironman event in June in Austria and had kept the same training schedule. "This time, I was happy when I clocked 52:07 minutes for the 3.86-km swim that even got me the sixth fastest overall," Radkar told The Indian Express.
"My aim for the last two years has been to complete the event in 11 hours. The overall time that I took was 11 hours and 45 minutes," Radkar said.
Kirsten Muller from Germany won the overall women's professional race with a time of 9 hours and 15 minutes. Trained by Radkar, Pune's Salonie Pathania and Nikhil Kapur too completed the event with incredible timings.
Salonie (31), a manager in a city-based company, completed the event in 13 hours and 58 minutes, while Nikhil (39), director of Atmantan Wellness Resort, took 13 hours and nine minutes.
"The contestants trained me for a year or so and while most were from Mumbai, we used to manage via a training portal and then I used to check their schedule on a weekly basis," Radkar said. Among the first-timers were Akshay Samel, a pilot, who completed the event in 11 hours and 14 minutes; and Saurabh Ahuja, who completed the event in 13 hours and 49 minutes. Nainesh Vankavala, an orthopedic surgeon from Surat, finished in 13 hours and 58 minutes.
Watch Video: What's making news
Radkar admitted that completing the event for the 15th time and bagging the Ironman title yet again feels very special. "It is also very satisfying to see that a high number of Indians have taken up the challenge," he said, adding that he does not have any specific diet plan.
"I do not follow any vegan or keto diets. Basically, I increase my intake of protein and also veggies and fruits," Radkar said, adding that the next target was the Kona World Championship in 2017, which he aims to complete within 11 hours.
From Around The
http://indianexpress.com/article/india/india-news-india/ironman-for-the-15th-time-pune-based-kaustubh-radkar-shines-in-sweden-yet-again/